Services and Hours
SIXTH CHURCH OF CHRIST, SCIENTIST, SAN DIEGO
2340 CHATSWORTH BOULEVARD
SAN DIEGO, CALIFORNIA 92106 (Map and Directions)
(619) 223-9959
SUNDAY WORSHIP SERVICES
10 to 11 am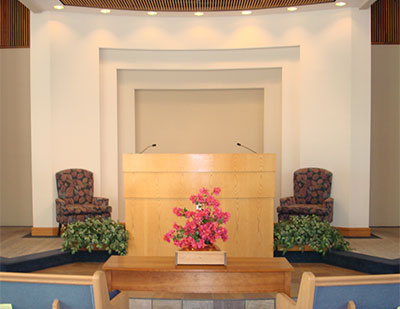 What to expect:  Friendly people, music, singing, scriptural readings, prayer, and a sermon. The sermon is based on a weekly Christian Science Bible Lesson from our pastor, the Bible and Science and Health with Key to the Scriptures by Mary Baker Eddy. The Sunday service lasts an hour, and Sunday School classes are held at the same time. Come dressed as you feel comfortable.
Fellowship occurs in the auditorium and the lobby following Sunday Worship. A Reading Room attendant is on hand to answer questions and assist anyone in making purchases following the service.
SUNDAY SCHOOL
10 to 11 am
(Care for young children is offered at Sunday services.)
What to expect:  Discover how the spiritual lessons in the Bible are relevant to your life – how they make a positive difference in your days and the things you love to do. Classes are flexible and designed to meet the needs of all students under the age of 20, including teens, kids in elementary school, and even the littlest ones. For more information about Sunday School, visit our Sunday School page.
WEDNESDAY TESTIMONY MEETINGS
7 to 8 pm
What to expect:  Our mid-week meeting is an informal gathering, where we sing, pray, and listen to readings on contemporary topics. A major part of our meeting includes time for anyone to share healings and inspiration from their prayers and study of Christian Science. Following the meeting there is always an opportunity for fellowship and visiting.
ALL ARE WELCOME AT ALL SERVICES